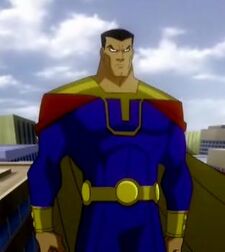 Ultraman is an evil equivalent of Superman from a parallel Earth (called Earth-Three or Earth-3). He is a member of the Crime Syndicate, an evil version of the Justice League that terrorizes its Earth. His real name is Clark Luthor (according to Smallville), and is the adopted son of Lionel Luthor Earth-2.
Kandor
During the Supergirl: Kandor storyline, Ultraman invaded the Bottle City of Kandor, posing as the city's god, Kal-El/Superman. He was opposed by Supergirl and Power Girl, who had taken up the identities of Nightwing and Flamebird.
Final Crisis
During Final Crisis, Ultraman was part of the coalition of Supermen from the multiverse that helped to win the battle in the end.
Trivia
Ultra man is one of the few (Evil) versions of superman that can lift a book of infinite pages (Stated by arris quinones of variant fame that he is the only one that can contradicting the picture that was shown on the Goku VS Superman rematch)
In Other Media