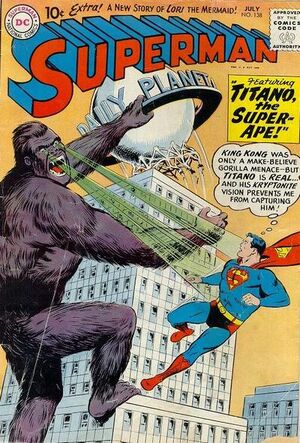 Titano the Super-Ape, originally known as Toto, is a gigantic, super-powered ape. Originally a normal chimpanzee, he was sent into space on an experimental space-mission and was mutated by exposure to radiation in outer space.
Powers
Titano seems to posess some degree of Super Strength. Additionally, he has Kryptonite Vision due to exposure to Kryptonite meteoroids in space.
History
Modern & Post-Modern Age
Sometime in the far future, Titano is seen to have joined the Superman Squad, headquartered in their Fortress of Solidarity outside of space-time. He's described as the protector of the Gorilla Galaxy, and is about the largest being in the Squad who can comfortably fit inside the Fortress. ("Grounded")
Appearances
Comics
TV
Episode 6: "The Chimp who Made it Big" (The New Adventures of Superman)
Ad blocker interference detected!
Wikia is a free-to-use site that makes money from advertising. We have a modified experience for viewers using ad blockers

Wikia is not accessible if you've made further modifications. Remove the custom ad blocker rule(s) and the page will load as expected.