The Supergirl from Krypton (Post-Crisis)
Talk

0
Share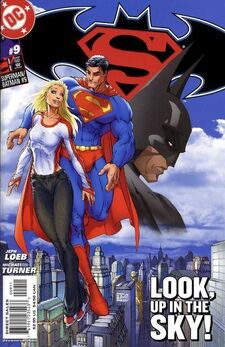 The Supergirl from Krypton is a modern age story arc, which appeared in the pages of Superman/Batman. It reintroduced Supergirl to modern age continuity, as Kara Zor-El (There had been a previous incarnation of Supergirl, but she had recently left the universe).
The story is a modernization of the pre-crisis story, The Supergirl from Krypton (Pre-Crisis).
Story
Batman discovers that a rocket ship has crashed in Gotham Harbor. Investigating, he discovers that there was a Kryptonian girl inside, who is now rampaging across Gotham city. Superman helps him to calm her down, and the two bring her to the Batcave.
Batman is suspicious of her, but Superman immediately trusts her.
Ad blocker interference detected!
Wikia is a free-to-use site that makes money from advertising. We have a modified experience for viewers using ad blockers

Wikia is not accessible if you've made further modifications. Remove the custom ad blocker rule(s) and the page will load as expected.