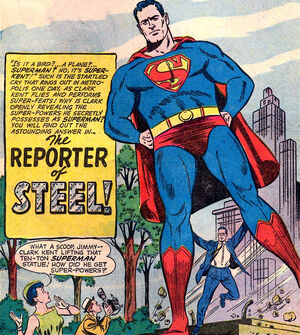 The Reporter of Steel! is a 1959 Superman comic book story, appearing in Action Comics #257.
Plot
Lex Luthor invents a Super-Ray which gives anyone super-powers identical to Superman's. He aims it at Clark, as a test, and gives him the powers. Unknown to him, of course, Clark already has powers, but plays along. Clark then begins demanding money to save people.
References
Continuity
Lois Lane previously had a dream in which Clark gained powers, becoming Power-Man, in "Lois Lane's Super-Dream". In the dream, Clark proved too timid to wield Superman's powers.
Ad blocker interference detected!
Wikia is a free-to-use site that makes money from advertising. We have a modified experience for viewers using ad blockers

Wikia is not accessible if you've made further modifications. Remove the custom ad blocker rule(s) and the page will load as expected.