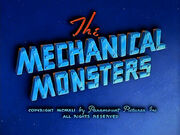 This article is about the episode. For the robots after which the episode is named, see Mechanical Monsters.
The Mechanical Monsters is a 1940s cartoon, part of Fleischer's Superman cartoon series. It features the Mechanical Monsters, rampaging robots who break into banks and vaults and steal precious valuables before returning to their mad scientist master.
Cast
Ad blocker interference detected!
Wikia is a free-to-use site that makes money from advertising. We have a modified experience for viewers using ad blockers

Wikia is not accessible if you've made further modifications. Remove the custom ad blocker rule(s) and the page will load as expected.