Ad blocker interference detected!
Wikia is a free-to-use site that makes money from advertising. We have a modified experience for viewers using ad blockers

Wikia is not accessible if you've made further modifications. Remove the custom ad blocker rule(s) and the page will load as expected.
The Death of Superman
December 1992 — January 1993

Writers
Dan Jurgens, Jerry Ordway, Louise Simonson, Roger Stern
Artists
Jon Bogdanove, Tom Grummett, Jackson Guice, Dan Jurgens
Comic Book Story Arcs
← previous

next →
Funeral for a Friend
The Death of Superman is a comic story arc during the 1990s in all four mainstream Superman comics of the time, which chronicles Superman's confrontation with the terrible monster Doomsday, his battle with the monster, and finally his death at the hands of the strange beast.
Man of Steel #18
Date: December 1992
Written by Louise Simonson
Pencils: Jon Bogdanove
Inks: Dennis Janke
Colors: Glenn Whitmore
Cover by Jon Bogdanove
Justice League America #69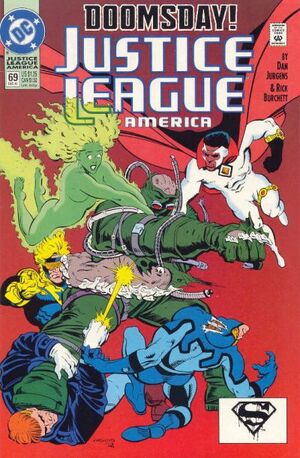 Date: December 1992
Written by Dan Jurgens
Pencils: Dan Jurgens
Inks: Rick Burchett
Colors: Gene D'Angelo
Cover by Dan Jurgens
Superman #74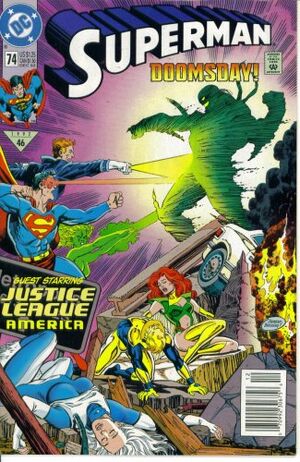 Date: December 1992
Written by Dan Jurgens
Pencils: Dan Jurgens
Inks: Brett Breeding
Colors: Glenn Whitmore
Cover by Dan Jurgens
Adventures of Superman #497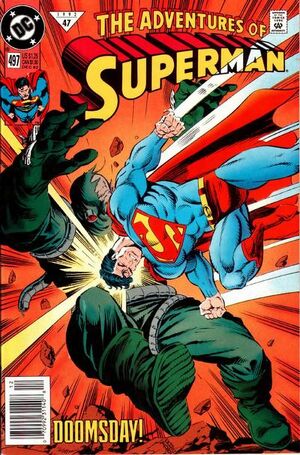 Date: December 1992
Written by Jerry Ordway
Pencils: Tom Grummett
Inks: Doug Hazlewood
Colors: Glenn Whitmore
Cover by Tom Grummett
Action Comics #684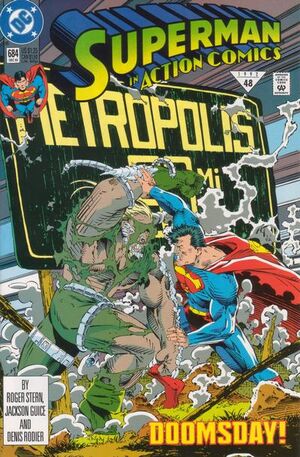 Date: December 1992
Written by Roger Stern
Pencils: Jackson Guice
Inks: Denis Rodier
Colors: Glenn Whitmore
Cover by Denis Rodier
Man of Steel #19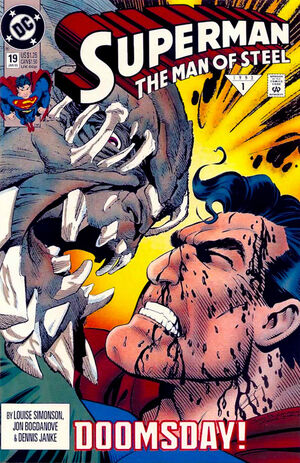 Date: January 1993
Written by Louise Simonson
Pencils: Jon Bogdanove
Inks: Dennis Janke
Colors: Glenn Whitmore
Cover by Jon Bogdanove
Superman #75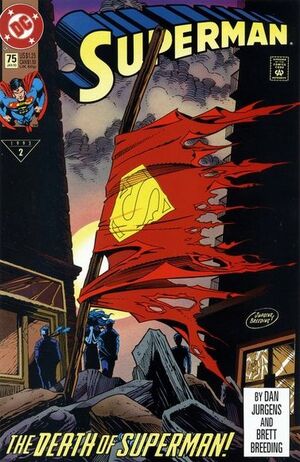 Date: January 1993
Written by Dan Jurgens
Pencils: Dan Jurgens
Inks: Brett Breeding
Colors: Glenn Whitmore
Cover by Dan Jurgens