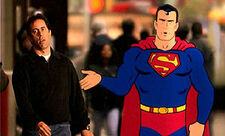 The Adventures of Seinfeld & Superman is a series of short commercials, featuring Jerry Seinfeld and Superman, which aired in 1998 (with new "webisode" versions in 2004). The commercials were advertisements for American Express. .
The voice of the animated Superman was supplied by Patrick Warburton, who had been a semi-regular on Seinfeld as Elaine's boyfriend David Puddy. Jack Larson appeared in the original TV commercial, reading a newspaper against a Daily Planet billboard. Noel Neill also appeared in a later short as a tourist using a coin-operated view finder.
Characters
Ad blocker interference detected!
Wikia is a free-to-use site that makes money from advertising. We have a modified experience for viewers using ad blockers

Wikia is not accessible if you've made further modifications. Remove the custom ad blocker rule(s) and the page will load as expected.