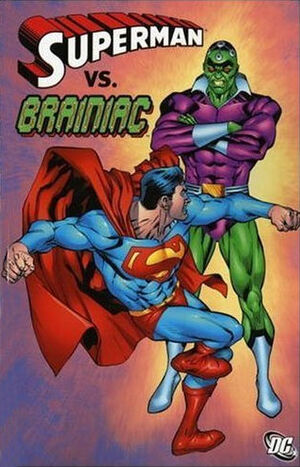 Superman vs. Brainiac is a trade paperback collection featuring some of the most memorable battles between Superman and Brainiac. The first edition is originally advance solicited in September 2008 and book released in October 2008. The book is 192 pages long.
Written by various
Cover by Carlos Pacheco & Jesus Merino
Art by Curt Swan, Gil Kane, George Pérez and others
The description for the book as originally solicited is as follows:
Superman's greatest battles against Brainiac are collected in this volume featuring stories from ACTION COMICS #242, 489-491, 544, 649 and 763, SUPERMAN #167, SUPERMAN'S GIRL FRIEND LOIS LANE #17, ADVENTURES OF SUPERMAN #438 and SUPERMAN: METROPOLIS SECRET FILES #1.