Superman X
[[Image: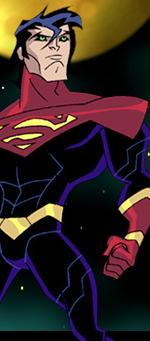 |288px]]
| | |
| --- | --- |
| Debut | Legion of Superheroes episode 2x01 |
| Portrayed by | Yuri Lowenthal |
Statistics

Classification
Kryptonian clone
Affiliation
Legionaires
Abilities
Standard Kryptonian, Ability to summon crystal structures, Ability to generate Energy Shields, Energy blades summoned by gloves
Superman X is a 41st Century version of Superman. He was cloned from Superman's DNA, and is a member of the Legion of Super-Heroes.
Thus far, he has only appeared in the cartoon series Legion of Superheroes.
Personality
Although this Superman cares about people more than he'd like to admit, he tries to be merciless, unrelenting, and willing to make any sacrifice to get the job done. Brainiac 5 even said he was a loose cannon.
History
Superman X was created by K3NT sometime in the 41st Century to battle the forces of Imperiex, who had mostly overrun the earth in that era.
He traveled back through time to get the help of the Legion of Superheroes to help him battle Imperiex, and he soon became a member of the legion.