Superman vs. The Elite

Released
June 12, 2012
Directed by
Michael Chang
Written by
Joe Kelly
Music by
Robert J. Kral
Duration
76 min
Studio
Warner Bros. Animation
Rated
PG-13
Revenue
$1,163,600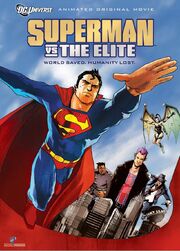 Superman vs. The Elite is a 2012 Superman animated movie. The film is based on the comic book story, "What's So Funny About Truth, Justice, and the American Way?", which involves the character of Manchester Black.
Ad blocker interference detected!
Wikia is a free-to-use site that makes money from advertising. We have a modified experience for viewers using ad blockers

Wikia is not accessible if you've made further modifications. Remove the custom ad blocker rule(s) and the page will load as expected.