Superman Secundus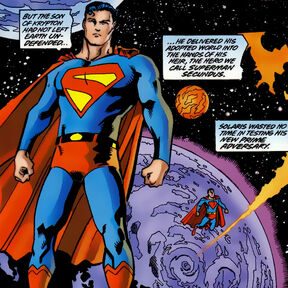 Superman Secundus is a superhero appearing briefly in the DC One Million storyline. He is named as Superman's "heir", although it is not explained if this means he was an offspring of Superman's, or simply an heir to the Superman namesake.
Superman Secundus is the first in a long line of super-powered beings that would become known as the Superman Dynasty, reaching far into the future of a present very similar to the Earth that was in continuity at the time the story was published.
Ad blocker interference detected!
Wikia is a free-to-use site that makes money from advertising. We have a modified experience for viewers using ad blockers

Wikia is not accessible if you've made further modifications. Remove the custom ad blocker rule(s) and the page will load as expected.