Superman (William Dunn)
Talk

0
1,323pages on
this wiki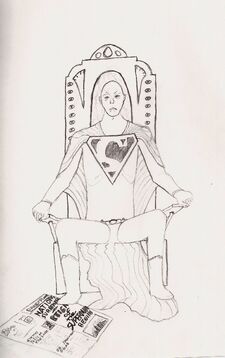 The Superman, also known by his real name, William Dunn, was the earliest-known person to carry the mantle of Superman.
He originated as a poor man who had to wait on a bread-line each day for food. He was approached by a man named Professor Smalley, who offered him a hot meal. Upon following the strange professor, our poor man became a lab rat and was subjugated to a strange meteor rock, which-- it was later revealed-- gave him superpowers.
His superpowers-- which, unlike the modern Superman's powers, are mainly mental in nature: Telepathy and the ability to control human minds, and telescopic vision-- quickly corrupted the poor man, and he became an evil supervillain, quickly dubbing himself The Superman.
After experimenting with his powers, he decided to take over the world; He began sowing discord between nations to prepare for this. Professor Smalley, however, wanted the powers for himself, and the two had a final battle, of which Dunn was the victor. Unfortunately, Dunn's powers wore off soon after.
Legacy
Although Dunn's reign as Superman was short-lived, he is remembered as being the first to use the name Superman. The name was later adopted by The Superman, and finally by Kal-El.
Behind the Scenes
The Superman was the first version of Superman ever to appear in print. His story was told in Jerry Siegel's sci-fi short story, 'Reign of the Superman'.
This early version of Superman was depicted almost entirely different than the modern version. First and foremost, he was a villain.
And secondly, his powers were mainly mental in nature.
Powers and Abilities
Superman possess Telepathy, and the ability to control human minds. as well as telescopic vision.