Superman (Red Son)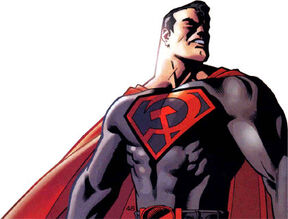 The Russian hero known as Superman is an alternate version of the Superman we know, from an alternate reality in which baby Kal-El landed not in Smallville, Kansas but rather in Soviet Russia and was raised by the government. This Superman, while still a hero, is antithetical to the United States, and has defeated some american heroes, such as Green Lantern.
His archnemesis is Lex Luthor, who is a scientist employed by the United States government to create heroes like Superman. Luthor's copied version of Superman, however, proves a failure and endangers more lives. Luthor created many monsters to battle Superman.
Eventually, Brainiac began manipulating the Man of Steel. Luckily, Superman was able to defeat him.
Appearances