Superman (DC Animated Universe)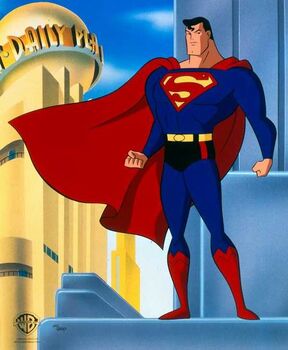 Superman is Earth's primary superhero.
Biography
Early life
The infant Kal-El was sent to Earth by his parents, Jor-El and Lara, prior to the destruction of their home planet, Krypton. Kal-El's capsule landed near Smallville, Kansas, where he was found by Jonathan and Martha Kent. The Kents adopted the young Kryptonian, naming him "Clark", after Martha's maiden name.
Clark began to discover his powers while growing up in Smallville, and was sometimes frustrated by his need to hide them from the public.
When Clark encountered Cosmic Boy, Saturn Girl, and Chameleon Boy from the future superhero team, the Legion of Super-Heroes, he did not use his powers very much. During this incident, he aided the trio in stopping Brainiac (from the 30th century) from destroying the Legion of Super-Heroes by killing Clark before he could become Superman. However, after Clark said his goodbyes to the team, Saturn Girl removed all memory of the events of that period from his mind. Nevertheless, this incident depicted all the strength and courage Clark would imbue as Superman.
Hero of Metropolis
As an adult, Clark moved to Metropolis and found employment as a reporter for the Daily Planet. An early appearance in costume, saving a young girl, attracted the attention of Lois Lane — as the story replaced one of her own. It was Lois who subsequently gave Clark's costumed persona the name "Superman." Superman gave Lois an exclusive interview, his motivation being to alleviate public fears by ensuring that people knew where he came from and why he was here — or, as his adoptive mother put it, so that people wouldn't think he was like "that nut from Gotham City."
Shortly after his arrival in Metropolis, Superman met Lex Luthor, who would become one of his greatest and most persistent adversaries, and defeated terrorist John Corben. In the following months, a variety of costumed criminals — some with metahuman abilities — began to appear in Metropolis to oppose the Man of Steel. A by-no-means complete list would include the Toyman, the Parasite, Livewire, Metallo, Bizarro, Volcana, and Luminus.
Superman would also encounter various beings who, like himself, hailed from other worlds, such as the renowned bounty hunter Lobo and the warrior queen Maxima, or even other dimensions, like the mischievous imp Mxyzptlk. He would even meet a few fellow survivors of Krypton: the Phantom Zone-exiled Jax-Ur and Mala, and — most chillingly — the artificial intelligence known as Brainiac.
Even as his roster of enemies continued to swell, Superman would also encounter many individuals whom he would come to consider staunch allies: the Flash, Batman, Dr. Fate, Steel, Aquaman, Robin, and the Green Lantern Kyle Rayner. He also discovered, on Krypton's sister world Argos, a young woman who would become not only a loyal ally but also a new (if adoptive) family member: Supergirl.
In time, Superman would also come into periodic contact with beings from the planet Apokolips, the realm of the malevolent entity who would become another of the Man of Tomorrow's most dangerous opponents: Darkseid. It was the diabolical Lord of Apokolips who would deal Superman many of his most humbling defeats; these included killing Superman's friend Dan Turpin, and brainwashing the Man of Steel and manipulating him into leading an assault on Earth. Although Superman recovered himself and defeated Darkseid, the immense damage to his reputation with Earth's populace was harder to repair. It would be some time before Superman could regain the people's trust entirely. In spite of this, he would continue his never-ending battle for truth and justice, although he would soon find that he would not need to continue it alone.
Protector of Earth and Other Worlds
After responding to the Imperium invasion, Superman joined with Batman, Green Lantern, Flash, Wonder Woman, Hawkgirl, and J'onn J'onzz to form the Justice League.[1] During this time, Superman and the Justice League would have many adventures, such as defeating Mongul on War World[2] and expose Lex Luthor as a criminal[3]. Two of the more significant adventures for Superman would involve meeting an alternate universe team of the Justice League called the Justice Lords[4] and face off once more against Darkseid and Brainiac, who were seemingly destroyed by Superman.[5] Both events would come back to haunt Superman in time.
During the Thanagarian invasion, Superman and the other founding members (minus Hawkgirl) were imprisoned, but managed to escape thanks to Wonder Woman. Going underground, Batman revealed that he knew Superman and Flash's secret identities, and told them to meet at Wayne Manor. After Hawkgirl gave them information on the Thanagarians' plans to build a Hyperspace Bypass Generator, Superman helped assault Hro Talak's mothership, but left to save Batman, who was driving the Watchtower into the Generator. With the threat passed, the Justice League debated on whether or not to allow Hawkgirl to stay. Superman wanted to believe her, but he feared the risk of further betrayal. Ultimately, Superman broke the tie...allowing Hawkgirl to stay in the League. However, Hawkgirl resigned before they could announce their decision. After that, the founding members reorganized the League and recruited the majority of Earth's costumed heroes, in what became loosely known as Justice League Unlimited.[6]
After a faux U.S. Presidential bid by Lex Luthor, Superman and the Justice League found themselves at odds with Project Cadmus. Cadmus was formed after the brainwashed Superman's invasion of Earth and the Justice Lords incident, and claimed its only goal was the defense of humanity. However, several members of Cadmus would have their own personal agendas separated from the alleged greater goal. Ultimately, Luthor hijacked the Watchtower's binary fusion cannon, making it appear as though the Justice League was responsible for attacking Cadmus' base.[7] Superman decided that the best way to lower tensions was to turn themselves over to the government. However, Batman convinced Amanda Waller that Luthor was responsible.[8] Confronting Luthor, Brainiac revealed that he was in control of Luthor, and merged with him. Flash managed to destroy Brainiac, but appeared to die in the process. Though he nearly killed Luthor, Superman realized that he wasn't a Justice Lord. After that, Superman decided that the Justice League had to be disbanded, but an impassioned speech by Green Arrow convinced him that the world needed the Justice League, and that the League needed Superman. The outpour of appreciation also convinced Superman that he had regained the trust he had lost after being brainwashed by Darkseid, and Superman stayed on.[9]
Luthor became obsessed with resurrecting the destroyed Brainiac, going so far as to overthrow Gorilla Grodd as the leader a virtual army of supervillains that Luthor would now use as his pawns. Brainiac's thought patterns were now intermingled with Luthor's, tempting the obsessed human with their knowledge and power. In his mad quest to resurrect Brainiac, Luthor would instead bring Darkseid back to life by accident. Darkseid launched a final massive attack against Earth, which required the mobilization of the Justice League's entire extended roster. After an incredible fistfight, Darkseid resorted to a secret weapon to disable Superman, but before Darkseid could complete his victory, he was diverted by Luthor, who had found the prized Anti-Life Equation. Superman's two greatest enemies disappeared in a flash of brilliant light, and have yet to be seen again in the present day.[10]
The Later Adventures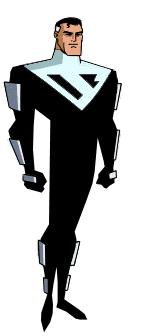 Superman was captured by the Preserver, an alien who collected creatures that were the last of their species. He managed to escape and brought the creatures he was imprisoned with to his Fortress of Solitude. One of these creatures, a starfish-like parasite, seized control over Superman in the 2050s and held sway over him for several years.
Controlled by the parasite, Superman attempted to destroy the Justice League Unlimited and take over Earth. However, through the efforts of Bruce Wayne, Terry McGinnis, and the League, the parasite was defeated and Superman regained control of himself. Terry McGinnis told Superman that he declined his offer to join the Justice League. Proud of Terry, Superman told Terry that he was like Bruce Wayne.
The older Bruce Wayne made comments that suggested Superman's Kryptonian DNA had slowed his aging. Whether this had detrimental effects on Superman's relationship with Lois Lane or upon his Clark Kent identity is unknown.
Powers and abilities
Superman possesses extraordinary powers, with the character traditionally described as "faster than a speeding bullet, more powerful than a locomotive, and able to leap tall buildings in a single bound". He is incredibly strong and powerful, and is often considered to be one of the most powerful characters in the DC Universe.
Kryptonian Physiology: Superman's cellular structure is more dense, resilient and biologically more effective than human tissue. Strangely enough, he does not seem to possess superhuman strength levels despite his enhanced cellular ability without constant exposure to yellow solar energy. Without such charging, his strength seems on par for a human of his height and weight who engages in regular physical activity. As an alien he possess several organs whose functions are not yet disclosed or understood but are believed to be part of and perhaps even the source of his biomatrix force field and reclamation aura. Superman's body also stores energy actively within his bio-cellular matrix as an energy pattern that is linked to his body's electromagnetic field. This energy powers most of Superman's electromagnetic capabilities such as flight and heat vision. It also supplements his physical strength by a factor of 12,000 times or so.
Solar Energy Absorption: Technically, this is the main source of Superman's powers. Because Superman's powers are greatly due to exposure to Earth's yellow sun, his powers have been affected by extreme absorptions of solar power, whether voluntary or involuntary. However, Superman has used this to his advantage in battle in many instances, and to his detriment at certain times.
Superhuman Strength: While the exact magnitude of Superman's strength is unknown, it is generally accepted that his strength easily surpasses the capacity to lift 900,000,000 tons, but how much more is not known exactly. This is because Superman's strength, like his other powers, has fluctuated over time. Technically Superman can augment his super strength to near infinite levels where he is has able to literally move planets from one solar system to another barehanded. Though he doesn't do this for fear of doing harm, but he can become "supercharged" and exceed his "normal" power levels as evident when his power absorption ability ran amok which needed the Parasite to drain off his excessive power levels. Currently he only maintains enough strength to do battle without killing, move mountains, but not enough to move planet sized objects on his own.
Invulnerability: Superman's body is nigh-invulnerable (Has survived low yield nuclear explosions where he was in direct contact with a forty megaton detonation bomb but was knocked unconscious as a result). This ability's levels have changed over time, at times allowing him to fly into a sun and emerge unharmed, as evident most recently when he travelled through Krypton's red sun and survived. Has been seen to skirt the photosphere of the sun (10,000,000 degrees F). Superman has even been shown withstanding Darkseid's Omega Effect, a feat that was previously considered impossible. In addition, his immune system protects him from toxins and diseases. The most common explanations for his invulnerability are Superman having a super-dense molecular structure and/or a supercharged bioelectric "aura" which acts as an invisible "force field" around his body within a few millimeters from his skin, and presumably within his body as well. The proximity of this field to his skin means that loose clothes, for example, may be burned off of him, while cloth that is close to his body is protected by the "aura;" This phenomenon is sometimes cited as Superman's reason for wearing a skin-tight bodysuit. It is sometimes implied that he can unconsciously extend this field to an undetermined extent to protect a greater area, allowing him to carry huge objects within the Earth's atmosphere and without gravity or inertia tearing them apart around his human-sized hands.
Superhuman Stamina: Superman has the ability to maintain continuous strenuous physical action for an undefined period. Theoretically, most incarnations of the character has unlimited stamina as his enhanced nourishment is produced from the solar energy his cells process; however his base physical structure still does need to process food stuffs as well as has the psychological need to eat and drink just as Earth humans do, despite the fact that his superhuman powers receives the majority of that power from a yellow sun. He does require sleep on occasion so he can dream. He can also hold his breath for an undefined duration.
Flight: Superman is able to manipulate graviton particles by psionic means, in an unknown and apparently unconscious manner, to defy the forces of gravity. Under one Earth gravity Superman is capable of Mach speeds in excess of Mach 10 in atmosphere. He has been seen to fly to the moon in minutes so we can assume that he can fly faster than that outside of atmospheric interference. His control of his flight is perfect and he can perform aerobatic feats such as hovering, flying backwards and even lifting great weights while flying. Superman has limited ability to fly in outer space.
Superhuman Speed: Superman is capable of enhanced reflex action and the ability to move at incredible speeds by sheer force of will. He is not quite as fast as the Flash and cannot achieve lightspeed under his own power, but can reach a high speed percentage of lightspeed in normal space. Superman can match most other speedsters in their ability to perform superfast movements, reactions, and processes. He can use this power to disarm opponents without heightened reflexes, catch bullets or shrapnel or cross vast distances in seconds. He has been seen flying from the Moon to the Earth in under 2 minutes. That is the equivalent of 2000 miles per second or 1% the speed of light. The source of this power remains unexplained.
Super Breath: The ability to create hurricane force winds by blowing, and to chill his breath in order to freeze a target (this latter ability has also been called "freeze breath" and "arctic breath"). Superman can also breathe in large amounts of air, an ability used when dealing with and disposing things like clouds of poison gas.

Superhuman Hearing: The ability to hear any sound at any volume or pitch. The only Earth creature who can detect sounds at the frequency he can is a blue whale (0.01-200,000 Hz). He has shown enough control to block out ambient sounds to focus on a specific source/frequency. He can identify a person by their heartbeat, or pick out a single voice in an entire city.
Heat Vision: The ability to fire beams of intense heat at a target by looking at it with the conscious act of activating this power. Visually, the power is typically depicted as two beams of red light firing from his eyes. These beams can be made invisible, allowing Superman to work undetected. The maximum temperature of his heat vision is said to be around that of a nuclear detonation. Can reach tempertures of 11,000 degrees F. The area of effect can be consciously determined by Superman, down to the microscopic level. Recent stories imply the precision is so exact it can bypass a target's outer shell (not causing damage to a person's skull for surgical purposes) or even defenses (such as invulnerability or intangibility).
Super Vision: He also possess a superior sensory arrangement of microscopic, telescopic, infrared and ultraviolet visual capabilities. He is able to see the entire spectrum. STAR Laboratories has not been able to complete define how Superman has been able to utilize his powerful senses, part of the mechanism is physical, part of it is believed to be psionic in nature. Abilities include:
Electro-magnetic Spectrum Vision: can see well into most of the EM Spectrum. He can see and identify radio/television and any and all broadcast/transmitted frequencies, allowing him to avoid detection through radar or satellite monitoring methods. Superman can see the aura that every living thing generates. This ability is apparently one of the main reasons that Superman is a vegetarian, as he can see the passing of the "soul" at death.
Telescopic Vision: The ability to focus his vision to see something at a great distance, without violating the laws of physics.
X-Ray Vision: The ability to see through anything except lead. Opponents sometimes used lead-lined constructs in an attempt to hide things from Superman. He can see things behind a wall as if the wall were not there, or can "peel back" layer after layer of matter in his mind. Kal-El is able to focus his vision past layers of matter, literally seeing "through" them -- possibly perceiving x-rays, cosmic rays or other forms of energy invisible to normal human vision which pass through Earth's atmosphere (and solid objects) after emission from stars. Since it is passive, this ability would not generate harmful radiation in the same manner as a focused projection of hard X-rays.
Microscopic Vision: The ability to see extremely small objects and images down to the atomic level.
Sources