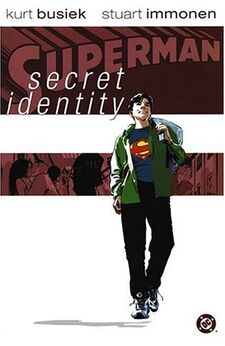 Superman: Secret Identity is a comic book miniseries, taking place in an alternate reality in which all the familiar DC comics superheroes are just comic book characters, much like on Earth-Prime. One boy, whose name is Clark Kent, discovers that he has Superman's superpowers, for some unknown reason.
Each issue of the series covers a different era of Superman's life. From his teenage years to old age, and the birth of his super-powered daughters.
According to Kurt Busiek, the writer, the inspiration for the main character came from Superboy of Earth-Prime. [1]
Characters
Cities
Other
Sources
↑ Kurt Busiek's Superman: Secret Identity – Q&A - Monday, January 5, 2004
Ad blocker interference detected!
Wikia is a free-to-use site that makes money from advertising. We have a modified experience for viewers using ad blockers

Wikia is not accessible if you've made further modifications. Remove the custom ad blocker rule(s) and the page will load as expected.