Ad blocker interference detected!
Wikia is a free-to-use site that makes money from advertising. We have a modified experience for viewers using ad blockers

Wikia is not accessible if you've made further modifications. Remove the custom ad blocker rule(s) and the page will load as expected.
Superman: Brainiac is a 5-part story arc featuring Brainiac in an attempt to bottle several of Earth's great cities, and destroy what's left of Earth. The story is notable as the first post-Infinite Crisis appearance of Brainiac, and includes the death of Jonathan Kent.
Official description: Before he came to Earth, the people of Superman's homes planet Krypton had battled Brainiac, a cold and callous alien obsessed with the control of knowledge. Now Brainiac has set his sights on destroying Earth and finishing off the Last Son of Krypton once and for all. This epic battle will change Superman's world forever.
Action Comics #866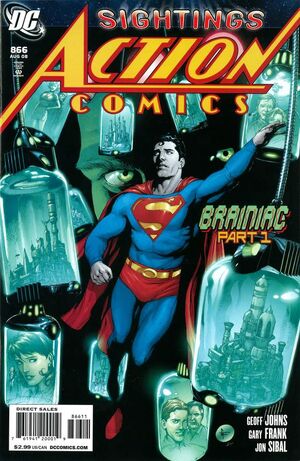 Date: August 2008
Written by Geoff Johns
Pencils: Gary Frank
Inks: Jon Sibal
Colors: Brad Anderson
Cover by Gary Frank
Action Comics #867
Date: September 2008
Written by Geoff Johns
Pencils: Gary Frank
Inks: Jon Sibal
Colors: Brad Anderson
Cover by Gary Frank
Action Comics #868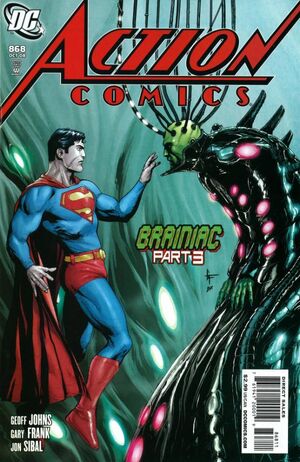 Date: October 2008
Written by Geoff Johns
Pencils: Gary Frank
Inks: Jon Sibal
Colors: Brad Anderson
Cover by Gary Frank
Action Comics #869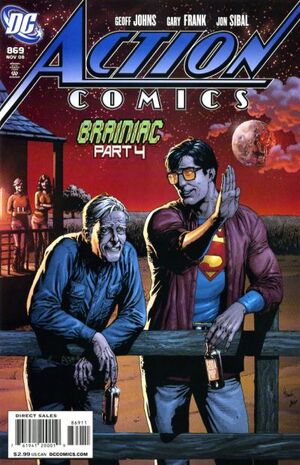 Date: November 2008
Written by Geoff Johns
Pencils: Gary Frank
Inks: Jon Sibal
Colors: Brad Anderson
Cover by Gary Frank
Action Comics #870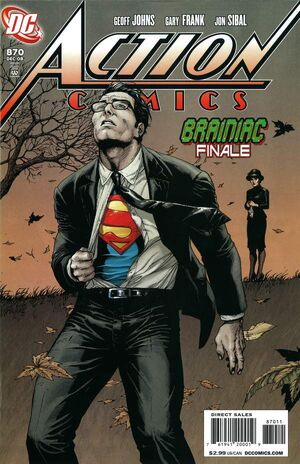 Date: December 2008
Written by Geoff Johns
Pencils: Gary Frank
Inks: Jon Sibal
Colors: Brad Anderson
Cover by Gary Frank