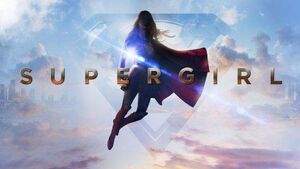 Supergirl is a live-action TV series based on Supergirl.
Plot
Season 1
SUPERGIRL is an action-adventure drama based on the DC Comics character Kara Zor-El (Melissa Benoist), Superman's (Kal-El) cousin who, after 12 years of keeping her powers a secret on Earth, decides to finally embrace her superhuman abilities and be the hero she was always meant to be. Twelve-year-old Kara escaped the doomed planet Krypton with her parents' help at the same time as the infant Kal-El. Protected and raised on Earth by her foster family, the Danvers, Kara grew up in the shadow of her foster sister, Alex (Chyler Leigh), and learned to conceal the phenomenal powers she shares with her famous cousin in order to keep her identity a secret. Years later at 24, Kara lives in National City assisting media mogul and fierce taskmaster Cat Grant (Golden Globe Award winner Calista Flockhart), who just hired the Daily Planet's former photographer, James Olsen (Mehcad Brooks), as her new art director. However, Kara's days of keeping her talents a secret are over when Hank Henshaw (David Harewood), head of a super-secret agency where her sister also works, enlists her to help them protect the citizens of National City from sinister threats. Though Kara will need to find a way to manage her newfound empowerment with her very human relationships, her heart soars as she takes to the skies as Supergirl to fight crime.
Season 2
In Season One, Supergirl soared fighting crime and battling various villains, chief among them two Kryptonians who were intent on destroying earth, but she has yet to find that same empowerment as Kara Danvers. Now, in Season Two, Kara has left the safety of being Cat Grant's assistant in order to figure out what she really wants to do, while as Supergirl she continues to work at the DEO., protecting the citizens of National City and searching for Jeremiah and Cadmus. Along the way, she will team up with Superman (Tyler Hoechlin) to battle new villains, as she strives to balance her personal life with her life as a superhero.
Characters
Main Cast
Recurring Roles
Production
Warner Bros. Television was looking to create a television series centered around Supergirl. Executive producers for the series include Greg Berlanti (also a creator/producer for Arrow and The Flash), Ali Adler, who are both writing the script, and Berlanti Productions' Sarah Schechter. DC Comics' Geoff Johns is also expected to be part of the project. The series is currently untitled, though titles under consideration include Super and Girl.[35] Berlanti confirmed the show shortly after, and stated it was in development and had yet to be pitched to networks.[36] On September 19, it was announced that CBS had landed the series, Supergirl with a series commitment. [37] On October 29, 2014, Arrow and The Flash casting director David Rapaport tweeted that he will be the casting director for the series.[38] Berlanti has hinted that the series will be part of the  Arrow and The Flash.[39] In December 2014, Claire Holt is among those currently testing for the role of Supergirl in the series, but sources say that she won't get the role. The Sun has reported that Gemma Atkinson is linked for the role and the series will be based on the 1984 movie.[40][41][42][43] In January 2015, it was announced that Melissa Benoist was cast as Supergirl.[2]In February 2015, Andrew Kreisberg has joined the crew as a writer and executive producer for the series.[44]
Seasons
Gallery
Trailer
References
External links
Ad blocker interference detected!
Wikia is a free-to-use site that makes money from advertising. We have a modified experience for viewers using ad blockers

Wikia is not accessible if you've made further modifications. Remove the custom ad blocker rule(s) and the page will load as expected.