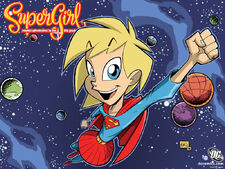 Supergirl: Cosmic Adventures in the 8th Grade is a comic book series featuring Kara Zor-El, aka Supergirl, facing challenges in the 8th grade.
The series is not set in the main comics continuity, and is intended for children. It features a younger version of Supergirl than most other versions.
In the series, Argo is the name of a moon of Krypton, not a city, and was not destroyed. Instead, Kara hid inside her father's rocket, thinking he would find her inside and release her, but instead found herself sent to Earth.
Characters
Ad blocker interference detected!
Wikia is a free-to-use site that makes money from advertising. We have a modified experience for viewers using ad blockers

Wikia is not accessible if you've made further modifications. Remove the custom ad blocker rule(s) and the page will load as expected.