Supergirl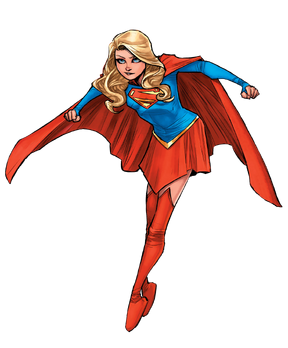 | | |
| --- | --- |
| Debut | Action Comics #252 (May 1959) |
| Created by | Otto Binder and Al Plastino |
| Portrayed by | see In other media |
Supergirl is the superhero name of Kara Zor-El, cousin to Superman. She was created by writer Otto Binder and designed by artist Al Plastino in 1959, and she first appeared in Action Comics, in whose first issue Superman himself was introduced. The character first appeared in comic books and later appeared children's cartoon animation, film, and television.
Pre-Crisis biography
After positive fan reaction to Supergirl, the first recurring and most familiar version of Supergirl, Kara Zor-El, debuted in 1959. Kara Zor-El first appeared in Action Comics #252 (May 1959) written by Otto Binder, who had also created Mary Marvel, Captain Marvel's sister and female spin-off. Like Supergirl, Mary Marvel was a teenaged, female version of an adult male superhero, wearing a costume that was identical to the older character other than substituting a short skirt for tight trousers. Otto Binder also created Miss America, a superhero who shared little other than the name with her sometimes co-star Captain America. The story that introduced the character, as published in Action Comics #252, was drawn by Al Plastino.
Reaction at the D.C. Comics offices to Supergirl's first appearance was tremendous, with thousands of positive letters-of-comment pouring in. The first published letter-of-comment in the August 1959 issue of Action Comics was from an eleven-year-old reader from Garland, Texas named David Mitchell. The same Dave Mitchell would go on to become a well-known Miami radio personality.
Kara Zor-El was the last survivor of Argo City of the planet Krypton, which had survived the explosion of the planet and had drifted through space. When the inhabitants of the colony are slain by green kryptonite which was released by metorites striking the lead barrier, Kara is sent to Earth by her father Zor-El to be raised by her cousin Kal-El, known as Superman. Fearing that she might not be recognized by Superman, Kara's parents provide a costume based on the Man of Steel's own.
On Earth, Kara acquires super-human powers identical to Superman's and adopts the secret identity of Linda Lee, an orphan at Midvale Orphanage. She conceals her blonde hair beneath a brunette wig and functions as Supergirl only in secret, at Superman's request, until she can gain, in his opinion, sufficient control of her powers. After being adopted by Fred and Edna Danvers, Superman decides his cousin is ready to begin operating openly as Supergirl.
In her secret identity, Linda attends Midvale High School as Linda Lee Danvers. In later years, after graduating from Stanhope College, she changes careers several times, holding jobs in student counseling, news reporting, and acting in a TV soap opera titled Secret Hearts. She also attends college in Chicago. Kara has many boyfriends, including Richard (Dick) Malverne, Jerro the merboy from Atlantis, and member of the Legion of Super-Heroes, Brainiac 5. She does, however, shun serious commitments, putting her super-career first.
Supergirl's secret identity is a closely held secret and is known only to Superman, her foster parents, and the Legion of Super-Heroes, of which she serves as a member for a time. Like all Kryptonians, especially in an Earthlike environment, Supergirl is vulnerable to kryptonite. Streaky, Linda Danvers's orange cat, acquires temporary super-powers as a result of its exposure to "X-Kryptonite," a form of kryptonite Supergirl had accidentally created in attempting (unsuccessfully) to neutralize the effects of green kryptonite. Comet the Superhorse, a former centaur, is Supergirl's equine companion.
Supergirl's biological parents survived the radiation poisoning that killed everyone else in Argo City by entering the Survival Zone (a parallel continuum akin to the Phantom Zone). They were eventually rescued from the Survival Zone by Supergirl and decided to live in the bottle city of Kandor. (Supergirl story in Action Comics #309-310 Feb-Mar 1964, confirmed in Action #370).
One way DC demonstrated the epic nature of its 12-issue limited series Crisis on Infinite Earths (April 1985-March 1986) was through the deaths of important characters. In issue #7 (October 1985), Supergirl bravely sacrifices her life to save her cousin and the multiverse from destruction. When Superman's continuity rebooted after the Crisis on Infinite Earths, DC editorial felt that Superman should be the sole survivor of Krypton, resulting in Kara being removed from continuity. Unlike a number of other characters who are shown dying in the Crisis, no one remembers Kara dying or even ever having existed.
After the events of Infinite Crisis, many historical events from the Multiverse are now being remembered. Donna Troy, after her rebirth and inheritance of Harbinger's Orb, has recalled the original Kara Zor-El and her sacrifice to save the Universe.
Post-Crisis biography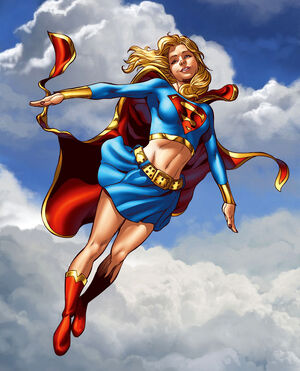 Issue #8 of the Superman/Batman series originally published in 2004 re-introduced Kara Zor-El into DC continuity. Like the pre-Crisis version, this Kara claims to be the daughter of Superman's uncle Zor-El and aunt Alura In-Ze. Unlike the traditional Supergirl origin, Kara was born before Superman; she was a teenager when he was a baby. She had been sent in a rocket in suspended animation to look after the infant Kal-El; however, her rocket was caught in the explosion of Krypton, became encased in a kryptonite asteroid, and she arrived on Earth years after Kal-El had grown up and became known as Superman. Due to this extended period of suspended animation she is "younger" than her cousin, relatively speaking (she is referenced to be about 16, while Superman is portrayed to be about 29). At the end of "The Supergirl from Krypton" arc, her cousin Superman officially introduces her to all the heroes of the DC Comics Universe, then she adopts the Supergirl costume, and accepts the name.
A new Supergirl series, written by Jeph Loeb, began publication in August 2005. The storyline in the first arc of Supergirl depicts a darker, evil version of Kara emerging when Lex Luthor exposes her to Black Kryptonite. The evil Supergirl implies that Kara's family sent her to earth to kill Kal-El as revenge for a family grudge; at the time, Kara herself refuses to believe this, but later flashbacks indicate that not only was this partly true but Kara had been physically altered by her father as a child before being involved in several murders on Krypton.
Supergirl also appears in Supergirl and the Legion of Super-Heroes, in which she is transported to the 31st century, and, as a result of her disorientation, for a time believes she is dreaming her surroundings into existence until finally convinced otherwise. Although her memories of her time with the Legion were erased before she returned to the present, the mental blocks broke down upon encountering the pre-crisis versions of Legionnaires Karate Kid and Triplicate Girl (Una).
Supergirl exhibits new powers, manifesting sunstone crystals from her body; so far she has only done so while under great stress (for example, when Cassandra Cain tries to kill her). Supergirl's father implanted the crystals within his daughter's body to protect her from malevolent beings from the Phantom Zone. The Zone-dwellers were released when Jor-El made the Phantom Zone Projector and exploited the Zone as a prison. Kara's father, believing that Kal-El is a lure to the Zone-dwellers, has instructed Kara to destroy him. More recent comics have cast this plotline as the result of Kryptonite poisoning from the kryptonite asteroid she was trapped in for years.
A recently wrapped storyline focused on her promise to a little boy that she would save him. She meant it in a more immediate sense, since Reactron was damaging the city, but the boy meant, could she save him from his cancer. She then tried to make good on her promise, following different avenues searching for a cure. After he died, she tracked down a villain with the ability to jump through time, but decided not to use that solution as she would just be doing the same thing as the villain. She's since accepted that sometimes she can't save everyone.
After Superman manages to rescue the Kryptonian bottled city Kandor from Braniac, Kara is reunited with her parents. However that reunion becomes bitter-sweet as Reactron kills her father, and her mother dies when New Krypton is destroyed by a trap in Reactron left by Lex Luthor.
In other media
External links
Ad blocker interference detected!
Wikia is a free-to-use site that makes money from advertising. We have a modified experience for viewers using ad blockers

Wikia is not accessible if you've made further modifications. Remove the custom ad blocker rule(s) and the page will load as expected.