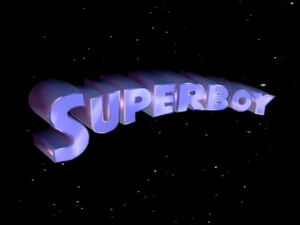 Superboy is a half-hour live-action television series based on Kal-El's early years as Superboy. It depicted Superboy's adventures during his college years, his meetings with Lex Luthor and his romance with Lana Lang.
The show ran from 1988–1992 in syndication, and was renamed The Adventures of Superboy at the start of the third season. John Haymes Newton played Superboy in the first season, while Gerard Christopher replaced him for the second, third and fourth season.
The Superboy series was brought to the screen by executive producers Ilya and Alexander Salkind, the producers of the first three Superman movies and the 1984 Supergirl movie. This series and the release of the 1988 Superman animated series on CBS coincided with the 50th anniversary celebrations of the Superman character that year. Ironically, the series came about a year after DC Comics had "erased" the character of Superboy from their continuity in The Man of Steel reboot by John Byrne.
This version of "Superboy" featured Clark Kent/Superboy in college at Shuster University in Siegelville, Florida (names which reference Superman's creators, Joe Shuster and Jerry Siegel). This was, of course, due partially to the fact that the show was filmed in Orlando, Florida. Superboy was the first weekly TV series to be produced at the then new Disney/MGM Studios. For the second season onward, the series moved several miles down Interstate 4 to Universal Studios Florida, the largest motion picture and television-sound facility outside Hollywood, where it was then showcased as that studio's first weekly television product.
At first, much of the action centered around stories that Clark and T.J. reported on for the college newspaper, the Shuster Herald. All the exterior scenes shot at "Shuster University" are actually filmed on the main campus of the University of Central Florida. Siegelville, however, was depicted as a coastal city, as evidenced by imagery of both the new and old Sunshine Skyway Bridges in St. Petersburg, Florida in the opening credits.