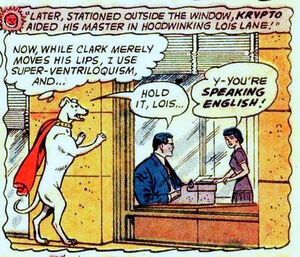 Super Ventriloquism is a power held by some Kryptonians. It allows them to project their voices onto other objects with enough skill and precision that it always fools people.
This power has only been seen in the Pre-crisis era. It is unknown whether it exists post-crisis.
Ad blocker interference detected!
Wikia is a free-to-use site that makes money from advertising. We have a modified experience for viewers using ad blockers

Wikia is not accessible if you've made further modifications. Remove the custom ad blocker rule(s) and the page will load as expected.