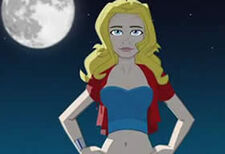 Smallville Legends: Kara and the Chronicles of Krypton is an internet cartoon series featuring Supergirl, prior to the destruction of Krypton.
The series fleshes out the backstory for Smallville.
Plot
Kara begins to uncover her father's plan to betray the Council of Krypton for General Zod's rebel army.
Characters
Locations
Ad blocker interference detected!
Wikia is a free-to-use site that makes money from advertising. We have a modified experience for viewers using ad blockers

Wikia is not accessible if you've made further modifications. Remove the custom ad blocker rule(s) and the page will load as expected.