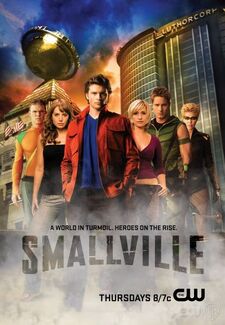 The Eighth Season of Smallville is the current season of the TV series Smallville.
The new season features more characters from the Superman mythos; some old regulars like Lex Luthor and Lana Lang have left the show, but new characters have joined the cast, such as Davis Bloome/Doomsday and Tess Mercer.
Storyline
Davis Bloome, a paramedic for Metropolis General Hospital, befriends Chloe Sullivan and develops a romantic interest in her. However, she's engaged to Jimmy Olsen.
Tess Mercer, meanwhile, has taken over Lex Luthor's role at Luthorcorp and residence in his mansion in Smallville. She has also become the new editor for the Daily Planet.
Clark Kent is beginning to realize that he should use his abilities to help people and inspire hope. He's repeatedly encouraged by his super-powered peers, including Oliver Queen, to take on a costumed identity. While he's not entirely ready to take this step, he allows his presence to become known as the Red-Blue Blur, due to the blurry photo taken by Jimmy of him moving at superspeed.
Davis, meanwhile, is having a series of blackouts, and soon begins to suspect that he's transforming into a terrible killer. Clark also tries to figure out who the killer is.