Selena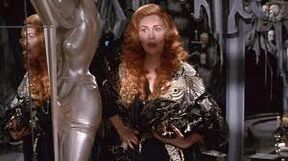 Selena is a sorceress, and the main antagonist of the Supergirl film.
Fictional character biography
Edit
When the Omegahedron is lost from Argo City it arrived on Earth. It was recovered by Selena, a power-hungry would-be witch assisted by the feckless Bianca, seeking to free herself from her relationship with warlock Nigel. Whilst not knowing exactly what it is, Selena quickly realizes that the Omegahedron is powerful and can enable her to perform real magical spells. Supergirl arrived on Earth in search of the Omegaheadron.
A groundskeeper named Ethan caught the eye of Selena, who drugs him with a love potion (which will make him fall in love with the first person he sees for a day); however, Ethan regains consciousness in Selena's absence and wanders out into the streets. An angry Selena uses her new-found powers to animate a construction vehicle which she sends to bring Ethan back, causing chaos in the streets as it does so. Supergirl rescues Ethan and he falls in love with her instead while in the guise of Linda Lee.
Supergirl and Selena repeatedly battle in various ways, until Selena uses her powers to put Supergirl in an "eternal void" known as the Phantom Zone.
Back on Earth, Selena misuses the Omegahedron to make herself a "princess of Earth", with Ethan as her lover and consort. Emerging from the Phantom Zone through a mirror, Supergirl regains her powers and confronts Selena, who uses the Omegahedron's power to summon a gigantic shadow demon. The demon overwhelms Supergirl and is on the verge of defeating her when she hears Zaltar's voice urging her to fight on. Supergirl breaks free and is told by Nigel the only way to defeat Selena is to turn the shadow demon against her. Supergirl quickly complies and begins flying in circles around her, trapping her in a whirlwind. Selena is attacked and incapacitated by the monster as the whirlwind pulls Bianca in as well. The three of them are sucked back into the mirror portal, which promptly reforms, trapping them all within forever.
Powers and abilities
Edit
Selena was originally a novice sorcerer but using Omegahedron she was able to manipulate reality itself.
Selena has not appeared in any other media.
References
Edit