Ad blocker interference detected!
Wikia is a free-to-use site that makes money from advertising. We have a modified experience for viewers using ad blockers

Wikia is not accessible if you've made further modifications. Remove the custom ad blocker rule(s) and the page will load as expected.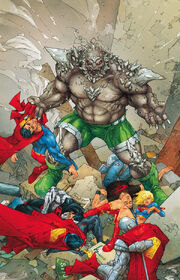 Reign of Doomsday is a 2011 comic book story arc, spread amongst issues of Superboy, Supergirl, Steel, and more. It featured the return of Doomsday, the genetically engineered monster that killed Superman.
With Action Comics #900, the miniseries ended but the story arc continued in Reign of the Doomsdays.
Plot
For unknown reasons, Doomsday seems to be hunting down Superboy, Eradicator, Cyborg Superman, and Superboy, the four Supermen who replaced Superman after his death at Doomsday's hands. Addtionally, he seems to have gained the ability to duplicate their powers.
Issues
Steel #1 - part 1
Outsiders #37 - part 2
Justice League of America #55 -part 3
Superman/Batman Annual #5 - part 4
Superboy #6 - part 5
Action Comics #900 - Finale/lead-in to Reign of the Doomsdays. This issue is also the conclusion to Lex Luthor's The Black Ring storyline