Orson Welles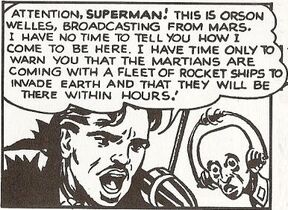 Statistics

AKA
George Orson Welles (birth name)
Classification
human
Abilities
expert illusionist, vocal impersonator
Orson Welles (1915-1985) was a noted auteur (actor, director, writer) on stage, radio, and television. Among his numerous accomplishments, he is perhaps best known for his infamous 1938 radio adaptation of H.G. Wells' "War of the Worlds" (which unintentionally sparked a panic) and for his 1941 film Citizen Kane.
Welles was also, however, briefly an ally of Superman. In 1949, Welles starred as the unscrupulous hypnotist Cagliostro in the period film Black Magic (co-starring Nancy Guild, and with Berry Kroeger). In cross-promotion for the film, Welles finds himself a guest star in the Superman #62 story "Black Magic on Mars."
Pre-Crisis
Edit
After wrapping up filming of Black Magic, Orson Welles (still in costume) and Nancy Guild drive down a mountain road where they come across a rocket ship. Orson exits and, out of curiosity, steps into the open door. The ship is an experimental pilotless rocket, and Welles is trapped and sent to Mars (as he recalls how "I fooled the world with my Martian invasion broadcast -- I never dreamed I would invade Mars myself!") Welles is greeted by uniformed Martians, who recognize him from their studies of Earth. The Martian dictator, one Martler (who styles himself after Adolf Hitler) explains his invasion plans and offers Orson the post of Earth propaganda minister.
Orson Welles flees (using the prop sword he still has with him) and forces his way into "the nearby Martian broadcasting studio," sending out an appeal to Earth and specifically requesting Superman's help. Perry White and Lois Lane laugh it off as another hoax, but Superman flies off in pursuit. Welles, using the special magic tricks he'd prepared for the wrap party, frightens the Martians, using a smokescreen, a mouth-based flame thrower, and even pulling a rabbit from his sleeves.
After Superman halts the Martian fleet, Welles uses his vocal prowess to manipulate an unconscious Martler into abdicating and renouncing his warlike ways (to the relief of the Martian people). Orson Welles is returned to the costumed wrap party (where Nancy Guild asks him if the broadcast was a hoax). Shortly thereafter, Clark Kent's "Orson Welles Really on Mars!' story is rejected by Perry White. ("Black Magic on Mars")