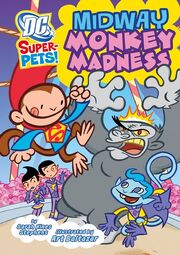 Midway Monkey Madness is a children's book starring Beppo the Supermonkey, part of the DC Super-Pets! book series.
Story
Beppo attracts a lot of attention, sitting atop the ferris wheel, when he visits Bazooka's Carnival. The Super-monkey doesn't mind though; he's having too much fun. However, when Gorilla Grodd shows up and starts ripping animals out of their cages, Beppo's got to find a way to save the day and defeat Grodd.
Ad blocker interference detected!
Wikia is a free-to-use site that makes money from advertising. We have a modified experience for viewers using ad blockers

Wikia is not accessible if you've made further modifications. Remove the custom ad blocker rule(s) and the page will load as expected.