This article is a list of the stories appearing in issues of the Supergirl comic series.
Backup Feature
When Supergirl first appeared, she was not immediately given her own comic book. Rather, a number of Supergirl stories appeared as short backup stories in issues of Action Comics. For a listing of these stories, see List of Action Comics stories.
Additionally, Supergirl later appeared as a backup story in other regular series, such as Adventure Comics and Superman Family. See List of Superman Family stories.
Volume 6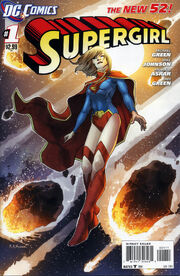 Volume 6 featured the New 52 version of Supergirl/Kara Zor-El.
2011