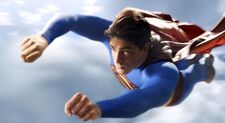 Flight refers to the ability in Kryptonians and Daxamites to defy gravity and fly at will through planetary atmospheres and through open space. This ability is gained through the Photonucleic Effect.
Some Kryptonians, before they develop the ability to fly, can jump and leap incredible heights and distances due to their incredible muscular structure in addition to their low weight. This Leaping can be considered a precursor to flight, but is not entirely due to the Photonucleic effect.
Known Characters that have demonstrated this ability
Clark Kent has demonstrated this ability in Smallville.
Superman  can achieve giant leaps but he rarely uses this ability instead he uses his flight ability.
Davis Bloome has demonstrated this ability in Smallville.
Jor-El has demonstrated this ability in Superman the animated series.
Ad blocker interference detected!
Wikia is a free-to-use site that makes money from advertising. We have a modified experience for viewers using ad blockers

Wikia is not accessible if you've made further modifications. Remove the custom ad blocker rule(s) and the page will load as expected.