LL
Talk

0
1,268pages on
this wiki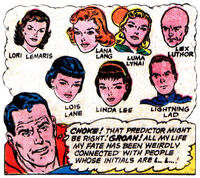 L.L. are the initials for many Superman characters who, for the most part, have tended to be his adversaries, love interests, or relatives.
Especially in Silver Age comics, it is a continuing trend to name characters with these initials.
Some such characters are:
Real Life
Leonore Lemmon (May 11, 1923 - December 30, 1989) was an American socialite who was the fiancée of actor George Reeves
Possible Explanations
In The Adventures of Superman #646, Mr. Mxyztplk suggested that the initials had an important significance within the Kryptonian Language.
Trivia