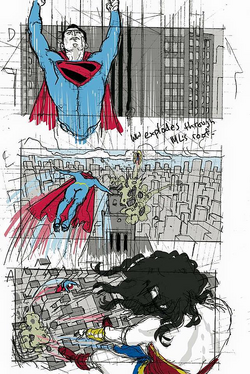 Justice League: Mortal was a planned film with the Justice League.
Purryburry Productions & Caldwell Entertainment have purposed making on documentary on the the development of the film, similar to The Death of "Superman Lives": What Happened?
Plot
Cast
D.J. Cotrona as Superman/Clark Kent
Armie Hammer as Batman/Bruce Wayne
Megan Gale as Wonder Woman
Adam Brody as The Flash/Barry Allen
Hugh Keays-Byrne as Martian Manhunter
Teresa Palmer as Talia
Zoe Kazan as Iris Allen
Santiago Cabrera as Aquaman
Jay Baruchel as Maxwell Lord
Common as John Stewart/Green Lantern
Anton Yelchin as The Flash/Wally West
Crew
Dean Semler - Director of Photography
Marit Allen - Costume Designer
Emily Seresin - Costume Designer (until her death, whereby it was taken over by Weta)
Ken Ralston - Visual Effects Supervisor
Richard Norton - Stunt Coordinator / Fight Choreographer
Mark Rogers - Still Photographer
Production
In January 2008, Warner Bros. announced the film was on indefinite hold, allowing options lapse for the cast. The studio felt the script needed perfecting, which was impossible because of the 2007-2008 Writers Guild of America strike.
In February 2008 it was announced that production would go to Canada, despite George Miller's wishes to keep production at Fox Studios Australia. The filmmakers are still adamant for a mid-2009 theatrical release date, and hope to have filming start in mid-July 2008.
Videos
Links
Ad blocker interference detected!
Wikia is a free-to-use site that makes money from advertising. We have a modified experience for viewers using ad blockers

Wikia is not accessible if you've made further modifications. Remove the custom ad blocker rule(s) and the page will load as expected.