It's a Bird, It's a Plane, It's Superman
Talk

0
Share
Ad blocker interference detected!
Wikia is a free-to-use site that makes money from advertising. We have a modified experience for viewers using ad blockers

Wikia is not accessible if you've made further modifications. Remove the custom ad blocker rule(s) and the page will load as expected.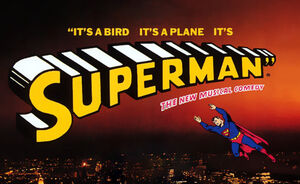 It's a Bird, It's a Plane, It's Superman is the title of a broadway musical based on Superman. It made its stage debut in 1966. It has since been made into a television special, and in 2010 a heavily re-imagined version of the play appeared in Texas, based on the golden age version of the character, but incorporating mythos from later Superman media.
Cast
Broadway version
Dr. Abner Sedgwick- Michael O' Sullivan
Lois Lane- Patricia Marand
Jim Morgan - Don Chastain
Sydney - Linda Lavin
The Flying Lings

Father Ling - Jerry Fujikawa
Joe Ling - Joseph Gentry
Ming Foo Ling - Michael Gentry
Tai Ling - Murphy James
Fan Po Ling - Juleste Salve
Dong Ling - Bill Starr

and Bob Holiday as Superman and Clark Kent
2010 version[1]
Clark Kent/Superman - Matt Cavenaugh
Lois Lane - Zakiya Young
Sydney Sharp - Jennifer Powers
Joseph "Torchy" Carter - Andrew Keenan-Bolger
Miss Marilyn Nessbit - Cara Statham Serber
Emily Emerson - Addi McDaniel
Sombra, the Scarlet Widow/Ma/Matron Bumble - Julie Johnson
Kazam - Matthew J. Kilgore
Jack-in-the-Box - Paul Taylor
Blackbird/Clark's Kryptonian Mother - Kate Wetherhead
Jupiter James - Kent Zimmerman
Perry White/Clark's Kryptonian Father - Hassan El-Amin
Mayor Siegel/Dr. Sedgwick/Pa - Sean Hennigan
Cadabra - Cedric Neal
Court Jester/Roy Randell/Beppo - Bob Hess
Tank Tanner - Chris Klink