Investigating Lois Lane: The Turbulent History of the Daily Planet's Ace Reporter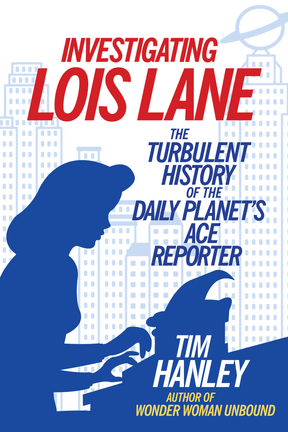 | | |
| --- | --- |
| Written by | Tim Hanley |
| Published | March 1, 2016 |
| Length | 288 pages |
| ISBN | 978-1613733325 |
Investigating Lois Lane: The Turbulent History of the Daily Planet's Ace Reporter is a critical assessment of Lois Lane.
Description
In a universe full of superheroes, Lois Lane has fought for truth and justice for over 75 years on page and screen without a cape or tights. From her creation by Jerry Siegel and Joe Shuster in 1938 to her forthcoming appearance in Batman v Superman: Dawn of Justice in 2016, from helming her own comic book for twenty-six years to appearing in animated serials, live-action TV shows, and full-length movies, Lois Lane has been a paragon of journalistic integrity and the paramour of the world's strongest superhero. But her history is one of constant tension. From her earliest days, Lois yearned to make the front page of the Daily Planet, but was held back by her damsel-in-distress role. When she finally became an ace reporter, asinine lessons and her tumultuous romance with Superman dominated her storylines for decades and relegated her journalism to the background. Through it all, Lois remained a fearless and ambitious character, and today she is a beloved icon and an inspiration to many. Though her history is often troubling, Lois's journey, as revealed in Investigating Lois Lane, showcases her ability to always escape the gendered limitations of each era and of the superhero genre as a whole.
Contents
The Ambitious Sob Sister
1a Joe Shuster's Lost Lois
Lois Lane on Screen, Part 1
2a A Real-Life L.L.
Sharing the Spotlight
3a Corporal Punishment
Romantic Rivals
4a Cry for Help
Lois Lane's Brief Feminist Revolution
5a The Antifeminist Rebuttal
As the Daily Planet Turns
6a Women Writers
Lois Lane on Screen, Part 2: Movies
7a Parodies and Homages
A Whole New World
8a Lucy Lane, Riot Grrrl
Lois Lane on Screen, Part 3: Television
9a Animation Representation
Watching from the Sidelines
10a The New 52 and Beyond
Conclusion
Acknowledgements
Source Notes
Bibliography
Index
See also
Ad blocker interference detected!
Wikia is a free-to-use site that makes money from advertising. We have a modified experience for viewers using ad blockers

Wikia is not accessible if you've made further modifications. Remove the custom ad blocker rule(s) and the page will load as expected.