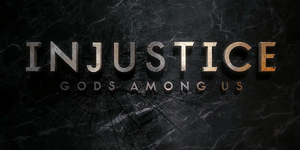 Injustice: Gods Among Us is a video game released April 16, 2013 for PS3, Xbox 360 and Wii U. The game is a fighting style game similar to Mortal Kombat vs. DC Universe.
Amongst the playable characters are Superman, Lex Luthor and Solomon Grundy, including Metropolis and The Fortress of Solitude as arenas. Other characters include Batman, Wonder Woman, the Flash, Cyborg, Bane, Catwoman, Deathstroke, Flash, Green Arrow, Green Lantern, Harley Quinn, Joker, and Nightwing.
Comic Book
A weekly, digital comic book written by Tom Taylor ties into the game serving as a prologue.
Injustice 2
The sequel adds Supergirl and other characters to the roster.
Ad blocker interference detected!
Wikia is a free-to-use site that makes money from advertising. We have a modified experience for viewers using ad blockers

Wikia is not accessible if you've made further modifications. Remove the custom ad blocker rule(s) and the page will load as expected.