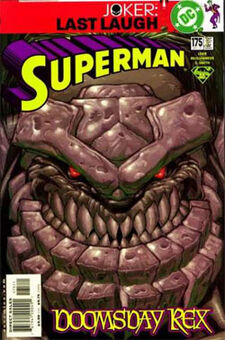 Doomsday Rex refers to a comic book story which appeared in Superman #175. Doomsday has evolved greater physical capabilities, and attacks Superman again in Washington, D.C. He is shown to have developed emotions and further intellect as well, and it is by manipulating these that Superman is able to kill him.
Ad blocker interference detected!
Wikia is a free-to-use site that makes money from advertising. We have a modified experience for viewers using ad blockers

Wikia is not accessible if you've made further modifications. Remove the custom ad blocker rule(s) and the page will load as expected.