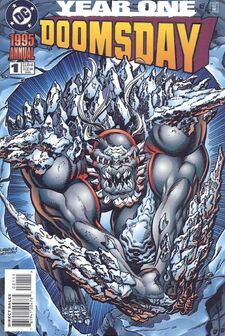 Doomsday: Year One is a 1995 comic book one-shot annual, which tells stories about the character of Doomsday. Thus far, it is the only comic book released which is entirely about Doomsday.
Events
Doomsday meets Darkseid for the first time
Doomsday fights the Green Lantern Corps
Characters
Ad blocker interference detected!
Wikia is a free-to-use site that makes money from advertising. We have a modified experience for viewers using ad blockers

Wikia is not accessible if you've made further modifications. Remove the custom ad blocker rule(s) and the page will load as expected.