Dollmaker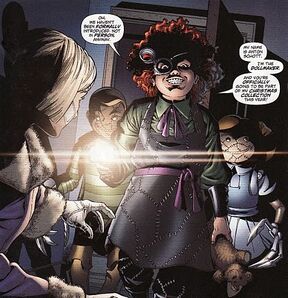 Statistics

Classification
Human
Anton Schott, also known as the Dollmaker, was a supervillain. He was related to Toyman, and based his dolls on Toyman's work. Like Toyman, Dollmaker was able to build incredibly sophistocated machines which resemble toys, or in his case dolls, specifically.
Dollmaker targeted Cat Grant, sending her a mysterious dolls, using her to get one of the dolls into the prison cell of Winslow Schott (aka Toyman), and finally breaking-and-entering into her appartment with a missing child enclosed in a deadly doll.
Ad blocker interference detected!
Wikia is a free-to-use site that makes money from advertising. We have a modified experience for viewers using ad blockers

Wikia is not accessible if you've made further modifications. Remove the custom ad blocker rule(s) and the page will load as expected.