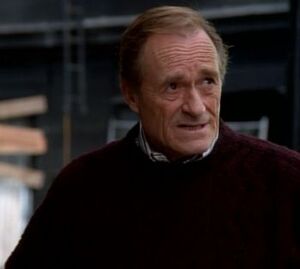 Dick Miller (b. 1928) is a character actor who usually specializes in playing weathered small-time crooks, guards, bartenders, and blue-collar types. He was part of the original cast of the Broadway musical It's a Bird, It's a Plane, It's Superman as "Suspect 2" and also understudied the part of Max Mencken. He guest starred on Lois & Clark: The New Adventures of Superman as Lois Lane's uncle Mike in "Church of Metropolis."
In addition to his Superman credits, Miller has participated in media adaptations of other DC Comics heroes. He recurred on the 1990 live-action TV version of The Flash (as police snitch Fosnight) and provided voices in Warner Bros. animated versions of Batman, as gangsters Boxy Bennett (in two Batman: The Animated Series episodes) and Chuckie Sol (in Batman: Mask of the Phantasm). In an episode of Justice League Unlimited, he voiced Oberon.
Miller's long career included colorful roles in several Roger Corman movies, such as Not of This Earth (as a vaccuum salesman), A Bucket of Blood (in the lead role of nebbish Walter Paisley, a name reprised as an in-joke for different Dick Miller characters in other movies), and The Little Shop of Horrors (as the strange flower-eater Burson Fouch). In addition to various B-movie and exploitation pictures, Miller's film credits include The Dirty Dozen, New York, New York, and several of Joe Dante's movies (notably as the occult bookseller in The Howling and Mr. Futterman in the Gremlins movies).
External links