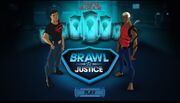 Brawl of Justice is a browser game based on the animated series Young Justice. It features Superboy as a playable character.
Goal
To hold off the Genomes as long as possible, so that the rest of the team can escape.
Playable Characters
Enemies
other
Ad blocker interference detected!
Wikia is a free-to-use site that makes money from advertising. We have a modified experience for viewers using ad blockers

Wikia is not accessible if you've made further modifications. Remove the custom ad blocker rule(s) and the page will load as expected.