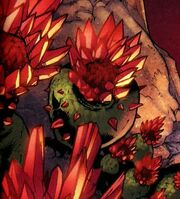 The Blood Bloom Plant is a species of plant-like organism that lives near Kryptons iconic fire-falls. The fluids within the plant are highly flammable, the plant secretes these fluids and apparently this is what causes the fire-falls to be aflame (although in some continuities the fire-falls are magma/lava flows).
Appearances
Superman: Secret Files 2009
Ad blocker interference detected!
Wikia is a free-to-use site that makes money from advertising. We have a modified experience for viewers using ad blockers

Wikia is not accessible if you've made further modifications. Remove the custom ad blocker rule(s) and the page will load as expected.