Black Kryptonite
Talk

0
1,315pages on
this wiki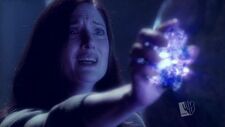 Black Kryptonite is a Varietal of Kryptonite, made by heating Green Kryptonite to extreme temperatures. It can split Kryptonians into two separate beings, made up of that person's good side and his or her evil side.
When exposed to Doomsday, it was able to separate him from his human identity of Davis Bloome, who still committed a murder out of jealousy, killing Jimmy Olsen in Smallville, season 8.
Both Superman and Supergirl have been exposed to the rock at various times, and have been forced to fight their evil side.